Membership Options from

the Affiliated Workers Association 
The Affiliated Workers Association (AWA) provides benefits and tools to its members, including over 10,000 small company owners, self-employed persons, independent contractors, and entrepreneurs from around the country. 
AWA has enjoyed remarkable development since its inception in 2001, and it is committed to continuing that growth in the future. Despite the uncertainties in health care, the economy, and other areas, our goal has always been the same: providing our clients with professional, lifestyle, and health-related advantages.  
In meeting this goal, we have developed many options so that no member misses out on coverage they need or is forced to pay for coverage they don't need. In the outline below of each membership plan, you will see that you can truly customize the benefits to meet your specific needs.  
AWA Advantage Small Business / Consumer / Health Benefits
Starting at just $29.95 per month, AWA Advantage includes many programs and discounts that can save both time and money, allowing members to focus on growing their businesses.  
If you are a small business owner or an entrepreneur, having access to the benefits and resources available in AWA Advantage can help you find success.   
AWA Advantage Association Benefits
Through this AWA Advantage membership plan, members can take advantage of many benefits, including: 
Consumer Solutions:

This includes everything from financial coaching to legal access, plus True Car auto buying service, 24-hour roadside assistance, pet care savings, travel assistance, and much more. 

 

Health Care Programs and Discounts:

As a member of AWA Advantage, you would have access to telehealth through Tela

d

oc, emergency medical air transport, patient advocacy services, discounts on prescriptions, hearing aid assistance, wellness programs, dental plans, vision plans, lab and diagnostic testing, and more. 

 

Business Solutions:

Take advantage of the cost and time savings of ADP Payroll Processing, HP technology products, web services, and discounts from companies like Office Depot, Sprint/T-Mobile, and UPS Shipping.

 
These are just a few of the most popular benefits for those who choose the AWA Advantage membership plan.  
AWA with Dental or Vision 
Those who seek an AWA membership with dental will find two main options: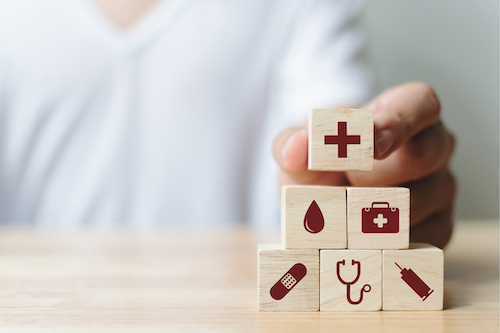 AWA Premier Dental

:

This is

 

first-dollar coverage, which means that there are no deductibles or co-pays, unlike traditional dental coverage. The insured chooses a plan (value, standard, or premier) and the amount the insurance pays for each dental procedure will vary based on the level of coverage. 

 

AWA Dental Plus

:

The other option

includes

 more traditional dental

benefits

. It has no waiting period, so you are eligible to get dental work done as soon as you start your coverage. However, it is a tiered plan, which means that while cleanings, exams, and x-rays are covered at 100% from day one, restorative dental work such as tooth extractions, crowns, and periodontics are covered at a percentage that increases for each year of coverage.

 
AWA Vision Membership
Option
Vision coverage is available through AWA ClearView. This membership includes fully insured vision benefits along with additional discounts. Members can get the most benefit when working with a participating provider but can also receive reimbursements at lower rates if their provider is not a participating provider.  
Benefits include an annual eye exam with a low $10 deductible, frame allowance, single-vision frames, contacts, and much more.  
AWA with Fixed
Indemnity
Insurance
Benefits
AWA HealthGuard members receive great discounts and special offers on a wide range of consumer, corporate, and healthcare activities and services. It also offers access to Accident and Sickness Limited Benefit insurance and Group Accidental Death and Dismemberment Insurance to aid with out-of-pocket medical expenditures.  
The AWA HealthGuard Max membership also comes with Term Life insurance. These memberships are available year-round and come in four different plan levels to suit your requirements, with rates dependent on age and location.  
AWA with Accident Benefits
AWA is proud to offer three membership options for GAP/accident insurance.  
AWA Life Plus ADD
Members with AWA Life Plus ADD have access to Term Life and Accidental Death and Dismemberment insurance coverage, which is essential in the case of an unforeseen accident. Members may better plan for the unexpected with AWA Life Plus ADD, which is partnered with AirMed Emergency Medical Air Transport and FreeWill will preparation. 
AWA SecureElite
Starting at just $44 per month, AWA SecureElite offers members access to additional Critical Illness and/or Group Accident Only Insurance coverage. In the case of an unforeseen accident or severe illness, having extra insurance can be lifesaving. Members can spend the cash benefits for anything they choose, including out-of-pocket medical expenditures, transportation costs, childcare, food, and other home chores, or even paying monthly bills. 
AWA Life Plus Triad 
AWA Life Plus Triad gives people and families inexpensive access to health care via simple-to-use benefits including Term Life, Critical Illness, and Accidental Death & Dismemberment that kick in immediately. Members don't have to worry about deductibles or co-pays since they pay predetermined cash amounts for covered health care services. The AWA Life Plus Triad membership will help you cope with growing healthcare costs and provide you peace of mind in the future. 
AWA with Insured Prescription Benefits
Enjoy prescription benefits with AWA SureScript RX starting as low as $57 per month. Most regularly prescribed generic and preferred brand medicines are covered under the membership plan, with minimal member co-pays. Additionally, you can use this benefit to get a CVS discount on non-preferred brand name medications and non-copay generics. 
Discounts have been negotiated at over 67,000 pharmacies across the country via the drugstore network. The program will cover up to a 30-day supply retail or a 90-day supply mail order of approved medication up to the $150 monthly maximum with a valid prescription. 
We Are Here to Help You Get the Benefits That Would Best Serve You
There are many advantages to having a wide range of options to choose from when selecting your membership with AWA, but we know that it is easy to become overwhelmed with so many choices.  
If you need help determining which of these or other services you can most benefit from, fill out the AWA Contact Form and one of our team members will be in touch to help.  
You can also reach out by phone for help with enrollment by calling (844) 542-9917.  
If you need assistance accessing our website or have billing or membership questions, contact Member Services at (214) 436-8881.