Starting Coverage: December 17
About PreventionPlus

AWA is committed to bringing savings opportunities to members whenever possible. That's why AWA and its benefits administrator, Premier Health Solutions have partnered to bring forward special benefits and savings like the ones available in PreventionPlus*, a supplemental benefit program. This is not an AWA membership level.
When it comes to our health, having flexible options allows us to live our best life. The benefits that come with PreventionPlus can help offset the expenses you may incur on a High Deductible Health Plan (HDHP) or prior to meeting your Individual Sharing Amount (ISA) on a healthcare sharing program. With 100% coverage for Affordable Care Act (ACA) preventive services, Primary Care Physician Office Visits and a prescription drug benefit, PreventionPlus provides supplemental benefits to help you manage the out-of-pocket costs that can quickly add up.
PreventionPlus' health care solutions span the most commonly needed services to keep you and your family healthy, while minimizing out-of-pocket expenses. When combined with AWA Advantage Value-Added Membership for PreventionPlus, members gain access to U.S.-based, board certified physicians via phone or email, savings on lab and imaging services, dental and vision discounts, prescription savings and more.
*Wellness 360 branded as PreventionPlus
Click Each Tab Below to Learn More About PreventionPlus -
Open All Tabs
Discounts & Resources Available
Join AWA
Health Care, Consumer, Small Business Discounts
Add an AWA Advantage Membership to receive telemedicine, lab and imaging discounts, dental and vision discounts and more to make PreventionPlus work even better for you and your family.
AWA Advantage includes a variety of programs and discounts to help save you time and money, so you can focus on your business and family. As a small business owner or entrepreneur, access to quality benefits and resources that can help you start and run your business is imperative, and AWA Advantage can help. Best of all, when all of these benefits are used together, the savings add up fast.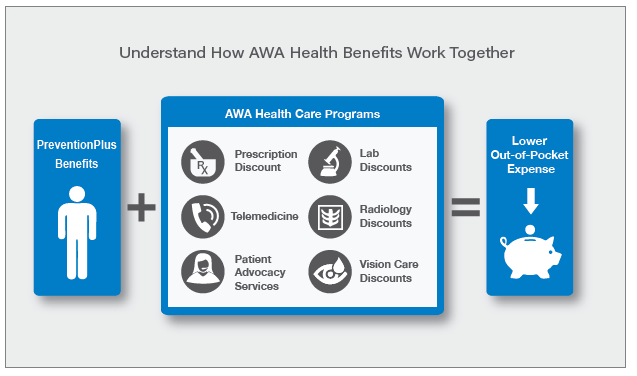 PPO Network & Rx Benefits
First Health Network
This program includes access to the First Health Limited Benefit Network.  Members have access to a premier national network that includes more than 5,100 hospitals, 110,000 ancillary facilities and 695,000 professional providers at over 1 million health care service locations.*
With average savings of 32-52%** for the most commonly used medical providers/services, members benefit from lower out-of-pocket costs through the First Health Network.
Script Care, Ltd.
Script Care, Ltd. is a true independent full service pharmacy benefit manager and is the longest operating PBM in the industry. Script Care has developed a diverse client base by maintaining a strict philosophy that combines innovation, savings and dedicated customer service. Their extensive experience and expansive scope of services has consistently proven their ability to meet the unique needs of their clients and members. Script Care's nationwide retail network consists of over 64,000 directly contracted pharmacy providers.
PreventionPlus Plan Options
Benefit Description
Basic
Plus
In-Network Preventive Benefits
Coverage for Preventive Benefits under PPACA
100%
100%
In-Network Services - PCP
Primary Care Physician Visits to treat an injury or illness
$25 Copay
$25 Copay
Maximum Visits per covered individual per plan year
4
6
Maximum fee plan allows per visit
$150
$150
Prescription Benefits
Generic Drugs - only FDA approved preventive medications and supplements (as required by ACA)
$35 copay
Limited to a 30-day supply
$35 copay
Limited to a 30-day supply
Brand Name without Generic option
Not Covered
Not Covered
Brand Name
Not Covered
Not Covered
Specialty Drugs
Not Covered
Not Covered
Disclaimers
• Federal Drug Administration (FDA) approved generic contraceptives will be paid at 100% after copay
• Smoking Cessation Drugs & Devices: FDA approved generic smoking deterrents will be paid at 100% after copay
• Some medications require a new prescription for each 30-day supply
Monthly Rates
| | | |
| --- | --- | --- |
| Monthly Rates | Basic | Plus |
| Primary Member | $145 | $165 |
| Primary Member & Spouse | $205 | $235 |
| Primary Member & Child(ren) | $185 | $215 |
| Family | $245 | $305 |
| | | |
| AWA Advantage Membership | $29.95 | $29.95 |
FAQ / Plan Summary
PreventionPlus Plan Summary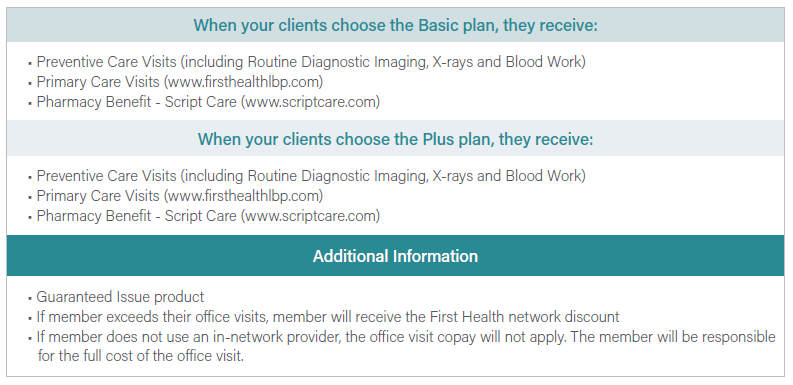 Eligibility Requirements
Between the ages of eighteen (18) and sixty-four (64)
Small Business Owner, Self-Employed Professional, Contractor or Entrepreneur
Reside in an approved state
Dependent children must be under age twenty-six (26)
PreventionPlus is NOT Available in: ME, MD, NH, NJ, NY, RI WA.